Camp in the Vast, Rugged Landscape of The Maine Highlands
With a world-famous reputation for offering some of the best "natural lodging" in the east, it's no wonder The Maine Highlands always produces "Happy Campers!" The region is synonymous with the outdoors and wilderness, boasting thousands of acres of undeveloped land and vast, rugged natural terrain. Camping in The Maine Highlands equals refreshing, star-filled nights. The warm, crisp glow of a campfire. The soft scent of evergreen drifting in the breeze. And marshmallows roasting to perfection! These are just a few of the sensory rewards for swapping four walls for natural lodging.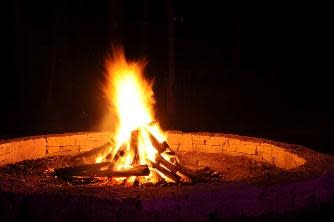 There are thousands of campsites (both privately-owned and state maintained) in the area ready to help you experience nature at its finest. Peaks-Kenny State Park in Dover-Foxcroft is just one of many ideal camping spots. Nestled in the mountains along the shores of Sebec Lake, enjoy your time lodging in the great outdoors while hiking, swimming or fishing for landlocked salmon and lake trout. Or try your hand at a total remote camping experience at Baxter State Park in Millinocket. This 201,000-acre wilderness area features over 50 interconnecting trails to ponds, peaks, and the top of Mount Katahdin. Grab your binoculars and be on the lookout for moose, caribou, deer, and beavers, just some of the species who make the area home.
Want to sleep on a bed while participating in an extreme outdoor adventure? Sporting camps and lodges offer a unique spin on camping in The Maine Highlands. Most camps cater to fishers, hikers, hunters, and family vacationers offering shower facilities and three hearty meals daily in their main lodges. Day trips are often hosted by Maine registered guides. Popular sites are located in and around Moosehead Lake and on conservation lands and nature preserves.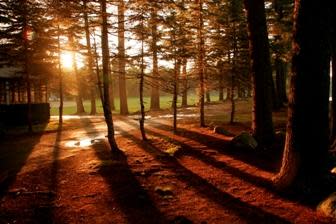 Looking for a place to send the kids to summer camp? Home to Maine's highest mountain and the state's biggest lake, The Maine Highlands region offers miles of beautiful forest and hundreds of mountain lakes to explore. Children's summer camps in this scenic region provide activities such as mountaineering, rafting, fishing and riding, as well as wilderness camping excursions. Visit Maine Summer Camps and Maine Camp Experience for more on these amazing camps for kids.
Natural lodging means more than pitching a tent and camping out in a remote spot. If you prefer the amenities of a full-service location where you can pull-up a RV or Big Rig, the Highlands welcomes you. The many area RV parks and campgrounds offer the discretionary traveler hook-ups, shower and laundry facilities, Wi-Fi, recreational grounds, and friendly Maine hospitality.
Cabins and cottages available for rent also offer comfortable, year-round alternatives to traditional camping. They make the idyllic setting for retreats and workshops, family reunions, and holidays. Many sit lakeside with a view of the mountains.
By cabin, sports camp, or sleeping under the stars, once you set up camp in The Maine Highlands you'll soon realize that the sights and sounds of nature are a wonderful distraction from everyday life.
Start planning a camping adventure in The Maine Highlands today!