Maine's Lakes & Mountains Region is Worth Exploring
From covered bridges to cultural centers
The Lakes & Mountains region of Maine is a cornucopia of history and culture. Western Maine's scenic wonder and beauty has long been a magnet for those seeking a creative outlet or the perfect place to call home. Cultural expression is vividly displayed in the many art galleries and exhibits. And the region's heritage is preserved in the array of museums and other points of interest found in every corner, off the beaten path and along main roads.
Bound by their proximity to mountains, forests, and waters, and an economic history dominated by wood products and manufacturing industries, the communities of the Lakes & Mountains region are predominantly rural, with strong Franco-American roots. So if you speak French, flaunt it!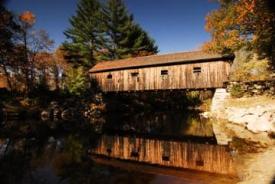 The twin cities of Lewiston and Auburn are cultural hubs. Divided by the Androscoggin River and "Great Falls," both cities have walkable downtowns that are home to many historic buildings and landmarks. Lewiston's walking tour features 100 stops tracing the city's history from the early 1800s. Maine's only basilica towers over the city. The Basilica of Saints Peter and Paul is a must-see for its great rose window and architecture that was modeled after the cathedral at Chartres in France. Stop by Museum L-A at the Bates Mill Complex (which once employed thousands at textile, shoe, and brick manufacturers) to explore industrial artifacts from closed businesses. Or take in the Great Falls Balloon Festival and the Festival de Joie that celebrates Maine's Franco-American heritage. Both events are held in August.
While in Lewiston, be sure to visit the beautiful campus of Bate College, one of the premier liberal arts colleges in the country. The college is also home to a Museum of Art that features temporary exhibits and a permanent collection.
Farmington is another cultural gem and lively arts center. The University of Maine at Farmington, a top public liberal arts campus is located in the center of town, projects a creative and artistic vibrancy into the community. In warmer weather, enjoy a variety of local festivals, concerts, and performances including Art in the Park.
In Livermore, the Washburn-Norlands Living History Center, spanning 445 acres, is the 19th century home of Israel and Martha Washburn. Among the seven Washburn sons were two Governors, four Congressmen, one U.S. Senator, a Civil War General and a Secretary of State. Continue on your historical journey with a visit to the Shaker Museum in the Sabbathday Lake Shaker Village of New Gloucester—the last Shaker community in the country. Shaker furniture, inventions, early American tools, tin and woodenware, textiles and fancy goods are displayed.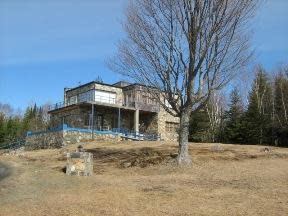 The Rangeley Lakes National Scenic Byway, which follows Routes 17 and 4, wrapping around Rangeley Lake, will also take you on a cultural expedition. Seek out the covered bridges of bygone days in the towns of South Windham, Fryeburg, Newry, South Andover, and Wilsons Mills. While in the area, take a drive to Bethel. The historical society is open year-round and hosts extensive exhibits in two of the town's earliest homes.
For yet another impressive taste of history, head to Kingfield, where you'll find the Stanley Museum. The museum celebrates brothers F.E. and F.O. Stanley, best known for inventing the Stanley Steamer Automobile. View exhibits of the automobiles, steam and chain-driven engines, early 1900s black and white photographs, and vintage equipment from the Stanley Dry Plate Co.
In the mood for a little visual extravaganza? There are performing arts centers in Lewiston, Bridgton, Norway, Kingfield, South Paris, Oxford and many other communities. The Skye Theatre Performing Arts Center in Dixfield and the Public Theatre in Lewiston are two venues worth checking out.
Some of the region's art galleries include the SugarWood Gallery in Farmington, Gallery 302 - Bridgton Art Guild in Bridgton, Harvest Gold Gallery in Center Lovell, and Maine Art Glass Studio in Lisbon Falls.
Regional Cultural Events You Don't Want to Miss:

Start planning your Maine's Lakes & Mountains cultural activities today!