Aroostook County is a Camper's Paradise
Roasted marshmallows, roaring campfires, the refreshing scent of pine lingering in the air—Aroostook County is a camper's paradise! Whether it's pitching a tent, renting a cabin, or sleeping under the stars, the state's northernmost region offers something for everyone. Choose a picture-perfect site along a babbling brook, in a pristine state park, or visit one of the thousands of private campsites awaiting your arrival in the North Maine Woods and beyond.
Camp out while enjoying the Houlton State Fair in July or Acadian Festival in the heart of Madawaska in the weather-perfect month of August. There's also no reason to travel while planning a trout or salmon fishing trip to one of Island Fall's four lakes (Upper Mattawamkeag Lake, Mattawamkeag Lake, Caribou Lake, and Pleasant Lake) or along Long Lake in Van Buren.
If absolute solitude is what you seek, the Town of Eagle Lake is a must! Secluded campsites accessible only by water can be found within the 23,000-acre Eagle Lake Public Reserved Land managed by the Maine Bureau of Parks and Lands. Pitch your tent and take in the sights and sounds of Maine's most remote wilderness.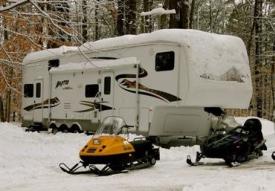 If camping at an established campground sounds more like something you'd enjoy, Aroostook County offers a number of options. One of the true gems is the Aroostook State Park. Recognized as Maine's first State Park, this camper's utopia is located on Echo Lake, just five miles south of Presque Isle. Hike Quaggy Jo Mountain or simply kick back and relax under the serenity of Maine's unforgettable skyline. RVs are always welcomed in the many campgrounds and resting areas found throughout the region.
No matter your preference, Aroostook County can satisfy your need for a relaxing vacation or an invigorating overnight getaway that's both affordable and safe.
You can also help the kiddos experience Aroostook County's great outdoors with an adventurous getaway at one of the area's many children's camps. Most camps cater to children between the ages of 5 and 16, and offer an array of programs designed to help kids learn, have fun and truly experience the natural wonders of the world. There's even an adventure camp designed for children with Type 1 Diabetes. Day trips as well as month-long camping adventures are available at these camps for kids. Search the fun-filled options at Maine Summer Camps and Maine Camp Experience.
Start planning your Aroostook County camping adventure today!