Make Great Memories at The Maine Beaches
The Maine Beaches region is a popular travel destination for people all around the world due to the miles of beautiful sandy beaches it offers. From York to Old Orchard Beach, you'll find everything from small private beaches to larger beaches with amenities like showers and food stands. Soak in the sun and breathe in the clean, salty air in The Maine Beaches region!
In addition to the miles of clean, sandy oceanfront, the region provides countless attractions and activities to consider while planning your vacation to The Maine Beaches.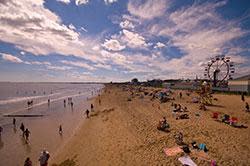 A trip to the Maine coast isn't complete until you take a gander at a Maine lighthouse. Cape Neddick's Nubble Light, located offshore, can be viewed from Sohier Park. Twice a year, for the winter holidays and 'Christmas in July', locals drape the lighthouse in Christmas lights.
Want to head out to sea? Treat yourself to a half-day whale watching adventure, lobster tour or scenic cruise.
If you're hoping to putt around on your vacation, you're in luck. The southern Maine coast is home to a variety of golf courses, whether you're a casual player or a seasoned pro.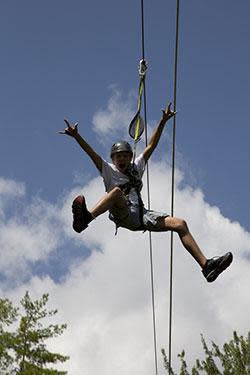 Unleash the kid in you at Aquaboggan Waterpark in Saco. Take a ride at amusement parks like Palace Playland in Old Orchard Beach or Funtown Splashtown USA in Saco.York's Wild Kingdom combines a 25-acre zoo with an adjacent amusement park.
Take your travel to new heights at one of the several zip line tours available in The Maine Beaches area, featuring "Maine's Largest High Ropes Challenge" aerial adventure course.
The area is also host to many festivals and fairs. For a sweet summer treat, visit the South Berwick Strawberry Festival in June. The well-attended fair includes live entertainment, arts and crafts and all the strawberry shortcake you can eat. Also in June is Biddeford's La Kermesse Franco-American Festival, which celebrates the area's French heritage.
The end of July brings the annual Lighting of the Nubble, when Cape Neddick's quintessential lighthouse is decorated with Christmas lights. The Christmas in July event allows summer travelers a chance to see the light house regaled as it is during the winter holidays.
Car enthusiasts can enjoy the Annual Old Orchard Beach Classic Car Show, where antique and classic automobiles parade through town every September.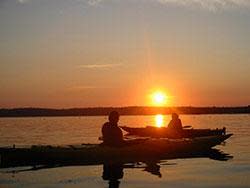 Kennebunkport's Christmas Prelude includes a lively hat parade, tree lighting ceremonies and a lobster bake that draws hundreds. The 10-day celebration, which also features local craftspeople and a chance to welcome Santa in from a lobster boat, earned Kennebunkport the title of HGTV's #2 Christmas Town.
Many other regional festivals, fairs and events take place all year. For a full listing of the area's events, fairs and, festivals, visit the official Events page. You can also download the fully-interactive visitor's guidebook.