Rest and Relax in The Kennebec Valley
A variety of beautiful accommodations await
Plush hotels. Quaint country cabins. Rustic log cabins. Or lying under a harvest moon. Lodging in The Kennebec Valley is filled with possibilities…and sweet dreams!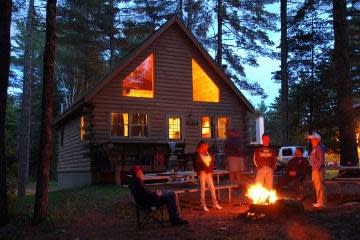 Rest your weary head at a local B&B or inn, where you'll experience the comforts of home combined with impeccable service. Many are located in the heart of The Kennebec Valley in towns like Winthrop, Hallowell and Monmouth and are operated out of historic, period homes. Take in a bit of history while relishing your downtime. These extraordinary facilities typically accommodate individuals, families, or larger groups with a home-away-from-home appeal.
Enjoy all the amenities of a rental home, cottage, or cabin nestled along the shores of the beautiful Belgrade Lakes or on the foothills of Pleasant Pond Mountain in Caratunk. Swim while being serenaded by loons in Belgrade. Or hike at the break of dawn in Caratunk.
As you travel deeper into the Maine woods, in towns such as Jackman and Rockwood, the appeal of outdoor camping comes to life. Wake to the call of the birds outside the folds of your tent. Or take in a majestic Maine sunrise while sipping coffee in your lounge chair perched near your RV. There are hundreds of campsites to choose from – those that cater to the rugged camper, as well as those with RV and "Big Rig" hookups. State parks offer ideal camping opportunities. Lake St. George State Park has pristine campsites overlooking the crystal clear waters of Lake St. George. The park has a brand new playground, numerous picnic tables and grills, and offers canoe, paddleboat, rowboat, and kayak rentals for a minimal fee. For the many camping options, please visit The Kennebec Valley Camping page!
Be one with nature! Stay at a traditional sporting camp or lodge. Often these are year-round resorts offer rafting, snowmobiling, and other activities as well as various lodging, dining, and entertainment opportunities. Go on a whitewater rafting adventure as soon as you wake up in The Forks.
Traditional hotels with easy access to shopping plazas, antique malls, museums, and attractions galore are mainly found in the Augusta and Waterville area. Use your rewards cards at the well-known chain hotels in the area. Regional facilities in Augusta offer all of the luxuries of larger chains, with extra dose of downhome Maine hospitality.
Throughout the Valley, motels offer a relaxed alternative to modern hotels and resorts. Augusta and Waterville are home to several of the larger, nationwide motels. There are also smaller, locally-owned facilities in Skowhegan and Jackman.
Start planning your lodging in The Kennebec Valley region today!