Recreation is the Heart and Soul of The Maine Highlands
Experience the Northern Maine Woods with a Visit to The Maine Highlands
If you're an adventure seeker or if you just love the great outdoors, The Maine Highlands is the destination for you. A four-season wonderland, the Highlands has it all! Hiking, fishing, canoeing/kayaking, whitewater rafting, sky diving, leaf peeping, moose and other wildlife watching, hunting, snowmobiling, snowshoeing, cross country skiing, and plenty of photo opportunities. Whatever outdoor adventure or escapade you have in mind, this is the place to be! Aside from playing outside in the natural terrain, the region also offers an abundance of other activities to keep you busy. Shopping, guided sightseeing tours, museum hopping–it's all possible in the Highlands.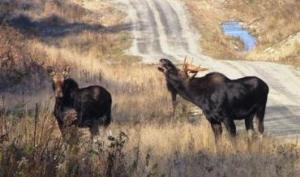 Located at the beginning (or the end, depending on your perspective) of the Appalachian Trail, The Maine Highlands gives you a unique opportunity to tackle Maine's highest mountain (peaking at nearly a mile or 5,267 feet) or largest lake.Imagine adding "Conquered Mount Katahdin" to your life resume as author and explorer Henry David Thoreau did (and documented in his novel The Maine Woods)! Or go on a wild moose safari in the Moosehead Lake region to catch sight of Maine's "Official State Animal." Take a drive to Brownville Junction. Here you'll discover Gulf Hagas, the "Grand Canyon of the East," with its numerous waterfalls, well-marked hiking trails, and brilliant landscapes–long considered one of Maine's best day trips.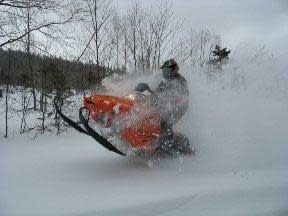 The Maine Highlands artists and art galleries are some of the most unique and diverse in the state. There are performing arts centers throughout the region showcasing local dance and musical talent. Catch an intimate theater production or energize your trip with tickets to one of the many area concerts. Maine artists and fine artisans are featured prominently in the region's art galleries. Watercolors, oils, pastels, prints, jewelry, photography, and fiber arts are displayed elegantly for your viewing (and purchasing) pleasure! Take home an oversized print of a young moose splashing in a nearby lake or proudly show off a collection of affordable Maine-made jewelry. The sky is the limit!
There are a number of state parks in the region; ideal places to take a short stroll or go on a day-long hike, walk your dog, see wildlife in its natural habitat, or just spend some time in nature. The largest of the Highland's (and Maine's) state parks is Baxter State Park just north of Millinocket. The park encompasses roughly 375 square miles and is home to Mount Katahdin. Other local parks include Gero Island Public Reserve, located on Chesuncook Lake in Greenville (ideal for anglers and canoeists); Lily Bay State Park on the east shore of Moosehead Lake (perfect for camping or sightseeing); Little Moose Publix Reserve Land, home of both the Big Moose and Little Moose Mountains; and Nahmakanta Public Land Reserve (a snowmobiler's paradise).
Regardless of your chosen activity, Registered Maine Guides are nearby to help plan, organize, and safely guide you. They offer instruction and all the equipment you'll need for a thrilling but safe outdoor adventure. Most specialize in canoe trips, kayaking, fishing, and hunting, offering guided deer and moose hunts, guided fishing/fly fishing for salmon and brook trout, guided bird and wilderness watching, and more. They'll take you to places you never expected to go, safely and efficiently .
For families, the area is rich in history and home to a number of cultural sites and museums. Kids will love exploring Mt. Kineo , an 800 foot mountain of rhyolite that rises dramatically from the deepest portion of Moosehead Lake; Katahdin Iron Works, a state-maintained historic site that houses the remains of a blast furnace and charcoal kiln that were originally built in 1843; and Thomas Hill Standpipe, a national historic landmark that is still in use today. The big kids will enjoy a trip to Hollywood Casino in Bangor. Try your luck at the slot machines or stop by the poker room.
For a full listing of the area's many events, fairs and, festivals, visit the official Events page. You can also download the fully-interactive visitor's guidebook.
One-of-a-kind boutiques, antique shops, discount stores and world-famous chains abound. The Maine Highlands region offers options for fashionistas to leisurely strollers and everyone in between. It's a total shopping experience! To plan a day of shopping, please see The Maine Highlands – Shopping page.
Start planning your adventures in The Maine Highlands today!