Lodging Options Abound in Maine's DownEast & Acadia Region
When planning a visit to the DownEast & Acadia region of Maine, be prepared for an incredible range of lodging options to suit every taste and budget. In addition to private estate, condo, and cottage rentals for a home away from home, there are many other accommodations to choose from, including chic full-service resorts, delightful bed and breakfasts housed within old sea captains' homes and on working farms, national chain hotels, cheery and spotless little Independent and family owned motels, and charming inns in every town.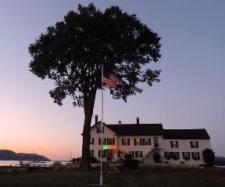 Looking for a little solitude or a unique place to rest your head? The region's many B&Bs are the perfect setting for a romantic overnight getaway or extended family vacation. Feel like a queen or king with a stay at Bar Harbor's Castlemaine Inn. Or find seclusion in one of the many period farmhouses turned accommodations. Several inns in and around Brooksville feature actual working farms with sheep, pigs, goats, and chickens and are just a short drive to Acadia National Park. You'll be greeted with smiles and a tour if your stay is at the Peacock House B&B in Lubec, built in 1860 by Sea Captain William Trott and minutes from West Quoddy Lighthouse, Campobello Island, and Summer Keys, a music adventure.
If a little pampering sounds like the perfect stay, then DownEast is hands downs the place for you! The area is home to a variety of deluxe resorts and spas, enveloped by the natural wonders of the region. Most area resorts include health and fitness centers, meeting facilities, spa services, on-premise fine dining, and indoor and outdoor pools, among other amenities. Imagine practicing your swing at Bar Harbor Regency's putting green with the sights and sounds of the ocean surrounding you. Relax outdoors in the The Harborside Hotel, Spa & Marina courtyard while the gentle sea-salt breeze caresses your skin. The life!
Private estate, condo, and cottage rentals are yet another option. Rented on a weekly, monthly, or seasonal basis, this is the ideal way to feel completely at home when away from home. Choose a delightful cottage near water's edge or a fully-furnished condo sitting in the center of a busy harbor town. Here's a listing of what's available.
Traditional hotels are mainly found in the Bar Harbor, Mount Desert, and Ellsworth areas. You'll find an array of locally owned regional facilities, along with national chains that are represented the world over.
Smaller independent and family owned motels offer a welcoming and comfortable atmosphere. You'll find accommodations where small pets are invited or located across the street from an authentic lobster pound dinner. You can even stay at the eastern-most motel in the contiguous United States.
For the many camping options, please visit our DownEast & Acadia Camping page!
Start planning your lodging in Maine's DownEast & Acadia today!