Always a Scenic View When Camping Maine's Lakes & Mountains
Known best for its crystal clear water and rugged terrain, Maine's Lakes & Mountains region offers many outdoor activities including water sports, fishing, hiking, biking, skiing and…camping! Face the sunset as you camp alongside a sparkling lake or listen for the call of the wild with a night surrounded by mountains. You'll enjoy the many amenities that await you, whether nature-provided or as part of a more modern stay.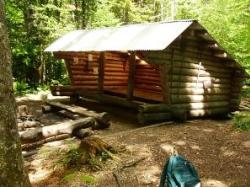 The quintessential and historic New England town of Bethel serves as an entry to the White Mountain National Forest, and is home to many tent and RV campsites—both privately-owned and those that are maintained through state park services. Among the six state parks in the region, Sebago Lake State Park, Rangeley Lake State Park, and Mount Blue State Park allow camping. They are also ideal spots for fishing, hunting, and swimming, and offer awe-inspiring scenery throughout the four seasons. Screw Auger Falls is a popular spot to visit for its beautiful waterfalls and scenic landscape in Grafton Notch State Park. Privately-owned sites are plentiful, providing campers with many of the luxuries found at home: wireless Internet access, laundry facilities, electric hook-ups, showers and general stores. Most are RV and Big Rig friendly and offer short-term and extended rentals. Find a campsite near the mountains or elsewhere in the region.
Sending a child to camp is a tremendous act of faith by parents. In the Maine Lakes & Mountains region, the many children's camps take their responsibilities seriously and maintain environments that encourage both safety and health, while reinforcing positive self-image. Your choices include traditional camps, sports camps, trip camps, music and art camps, or religiously affiliated camps. The activities offered at these camps encompass tennis, soccer, basketball, baseball, kayaking, sailing, canoeing and other water sports, fly-fishing, archery, riflery, crafts and woodworking, state-of-the art ropes courses, traditional wilderness skills, among others. Junior Maine Guide programs are also offered. See all the options in Maine's Lakes & Mountains by visiting Maine Summer Camps and Maine Camp Experience.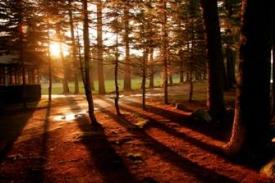 Popular among campers are the many sporting lodges and camps that allow you to sleep in a rustic environment, while taking on nature. And there's no better place to do that than in the Lakes & Mountains of Maine. Most sporting camps offer American Plan packages as well as cabin rentals with no meals. Guide services are usually available to those seeking a managed trek through Maine's great outdoors. The Sebago and Rangeley Lakes are great places to find these accommodations.
Cabins and cottages are available for rent year-round, offering yet another popular alternative to traditional camping. From slopeside cabins to the most magnificent lakefront cottages, you'll find the perfect spot for your family's vacation fun, spring or fall getaway, or just for relaxing! It's camping with perks!
Go to bed under the stars and wake up to a brilliant sunrise.
Start planning your Maine's Lakes & Mountains camping adventure today!