You'll Find Plenty of Delectable Treats in The Kennebec Valley
From brewpubs to whoopie pies, there's something for everyone
From Augusta to Jackman and points in between, there are a great number of places to eat while visiting or staying in The Kennebec Valley region of Mane. The area is bursting with family restaurants of all types and tastes including casual diners, breakfast nooks and national chains. You'll even find some old-time drive-in style eateries, less the roller skates, but all of the personality! If fine dining is on the agenda to celebrate a special occasion or event, there are plenty of establishments that serve five-course meals and international fare, from inns to upscale restaurants.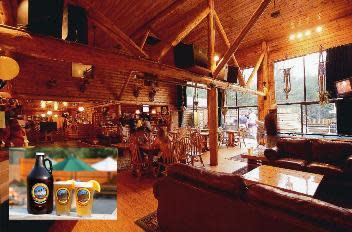 One of the most unique aspects of The Kennebec Valley region is the many breweries and pubs. In just about every town you'll find a locally owned bar featuring state-brewed beers and ales. Enjoy nut ales, Oktoberfest lagers and seasonal brews. They also serve snacks like roasted peanuts and popcorn and a variety of menu items, from mile-high sandwiches to soups, chowders and more. Expect the unexpected, too! The Kennebec Valley is also home to several winemakers, who are turning Maine-grown apples, pears, and maple syrup into award-winning wines and distilled spirits.
Grab a "Workingman's Lunch," (even while on vacation), at an area diner, famous for fast and friendly service. Local favorites include specialty pizzas topped with everything from BBQ chicken to fresh Maine seafood, sandwiches named for local politicians and celebrities, and desserts that are equal to what Grandmother used to bake in her home kitchen.
If you prefer healthier options, The Kennebec Valley region is home to many small family farms and orchards. While traveling in the area, be on the lookout for unique farm stands selling locally grown products and places to pick your own fruit and vegetables.
No matter where you travel in The Kennebec Valley, seafood is always on the menu. Look for unique dishes at the higher-end establishments, created by award-winning chefs. Try oysters on the half shell or little neck clams as an appetizer followed by amazing seafood paella or lobster stew. Or skip the seafood and let your taste buds travel around the world with Italian, Thai, Mexican and other international dishes.

Don't leave without sampling some of the Valley's signature dishes. The "whoopie pie" is the official snack of Maine and a Kennebec Valley eatery proudly holds the award for the best whoopie pie in the state. Red snappers (bright red, natural casing frankfurters) are considered the most popular type of hot dog in Maine and are commonly found at roadside food stands and many diners throughout the area. Smother them in cheddar cheese, chili and other mouthwatering toppings!
Come and experience some of the best dining in the Northeast. Visit the Maine Restaurant Association for more on where and what to eat while visiting The Kennebec Valley region of Maine.
Start planning your dining activities in The Kennebec Valley region today!