Sleep Well in the Many Accommodations of Maine's MidCoast
Where will you stay while visiting MidCoast Maine? A cottage overlooking the jagged shore. A delightful bed and breakfast sitting on a rolling hillside. Comfy pillows and room service or sleeping on the ground under the stars. What be your pleasure? The region has it all!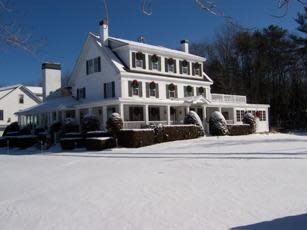 A seashore cottage is the perfect place to call your home away from home while staying in the region. Watch the sun rise over the water or catch a summer breeze lounging on the deck. There are chalet-style cottages and traditional housekeeping cottages perched on the edge of scenic harbors and nestled at the crook of mountains. Just a step away from being home, many feature multiple bedrooms, fully equipped kitchens and living rooms, bathrooms with showers, sun decks and more. There are also houses and condos available for rent. A local real estate agent will gladly point you in the right direction.
The homey comforts continue with reservations at a local bed and breakfast.Legendary historic inns are also peppered throughout Maine's MidCoast. Both types of accommodations are typically furnished with period antiques, have terraces and incredible views, offer gorgeous honeymoon suites, and service that is second to none.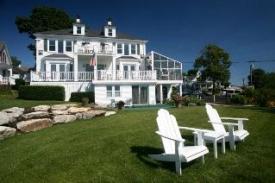 Families and business travelers will love the many accommodations in the area. In Maine's Mid-Coast you'll find everything from fabulous oceanside destination resorts to classic bed and breakfasts and everything in between. Many of Maine's Mid-Coast lodging options are steps from world-class golf courses, picturesque lighthouses and beautiful mountainside views.
Hikers, trekkers, adventure seekers, and families looking to reconnect with the great outdoors are not left out either. The area has a wide variety of places to pitch your tent or pull up your RV. For the many camping options, please visit the MidCoast Camping page! There is also an array of  sporting lodges and camps in the Mid-Coast that allows you to sleep in a rustic environment, while taking on nature.
Traditional hotels are mainly found in the Bath, Brunswick, and Rockland areas.You'll find a great selection of regional facilities such as Camden Riverhouse Hotel and Hotel Pemaquid, along with the well-known chain hotels.
Throughout Maine's Mid-Coast, motels offer a variety of rooms at reasonable rates, complimentary morning coffee, wireless Internet, cable, in-room refrigerators, laundry facilities and the sounds of crashing surf and magical sunrises.
Sleep well no matter where you stay in the Mid-Coast. Book your reservations today.