Portland Restaurants will have Your Mouth Watering
Portland, Maine enjoys widespread attention for the volume and variety of high quality restaurants. From lobster to vegan fare, from award-winning to farmers markets, from ethnic options to Maine seafood, Portland restaurants have something for everyone.It's no wonder that Portland was once a finalist for The Food Network's "Most Delicious Destination" award.
Foodies flock to Portland for its good food and exceptional chefs. Four of Maine's five winners of the sought-after James Beard Award can be found in Portland. During the winter, the popular Maine Restaurant Week celebrates the independent and locally-owned restaurants of the area. Diners are treated with delectable 3-course offerings while proceeds from the week benefit local nonprofit organizations. You could plan an entire trip around eating at Portland's best restaurants alone!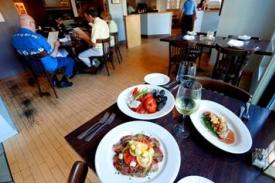 Portland's Old Port is home to many restaurants, pubs, coffee shops and restaurants. Overwhelmed by all the choices and can't decide what your taste buds are in the mood for? Book a Maine Foodie Tour. With choices of a walking tour, a dinner cruise around Casco Bay's islands and more, you can sample some of the area's best culinary offerings while learning about the city. Plan a visit to the area in October for Harvest on the Harbor, a four-day event featuring the best food, wine, beer and spirits from Maine. Get your tickets early. This event sells out quickly!
Ready for some Maine lobster? Hit one of our lobster shacks. A favorite of locals and travelers alike is Cape Elizabeth's Lobster Shack at Two Lights, perched atop the rocky shores of the Atlantic.
Several Greater Portland restaurants offer lobster, from lobster rolls to creamy lobster mac and cheese. Other plentiful seafood favorites are Maine scallops, mussels and cod. From traditional to artisanal, choices abound.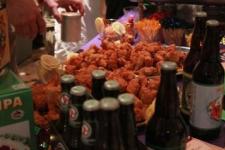 Local Farmers' Markets are another great way to sample fresh, local food. Weekly markets present fruits and vegetables, locally grown meat, dairy, honey, flowers and more. Voted one of the top ten Farmer's Markets in the country by Travel & Leisure, Portland's markets operate year-round.
From a sit-down sushi meal to a quick stop at a local bakery, Portland restaurants have something to please everyone.
Start planning your dining activities in Maine's Greater Portland and Casco Bay region today!