Shop 'Til You Drop in Maine's Mid-Coast
If you're used to crowds and chaos at the malls and big box stores, you'll love shopping in Maine's Mid-Coast. While there are still traditional shopping venues, the local downtowns are lined with small shops, outlets, and purveyors of all kinds of good and wares.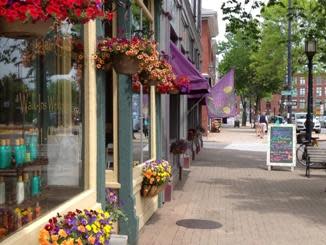 In Damariscotta and Newcastle, you'll find 19th century storefronts filled with shops. Look for those offering locally made jewelry and other Maine-made crafts, gifts, and foods. Cozy independent bookstores are also represented, as are many clothing boutiques and consignment stores. Renys Department Store in Newcastle is part of a small chain offering a unique Maine shopping experience. Find brand names as well as locally made products and off-price merchandise. Speaking of a Maine experience, you might also want to include a trip to Big Al's, The Odd Lot Outlet on route one in Wiscasset.
Unique to Maine's Mid-Coast are the many museum stores, offering gifts and items you won't find anywhere else. Visit the Maine Maritime Museum and while you're there stroll through the museum store to find everything from books to commemorative medallions. Next, head to the Penobscot Marine Museum and take in the eight historic buildings listed on the National Register. Their museum store is overflowing with local artwork and handicrafts. Owl's Head Transportation Museum is home to a fascinating, growing collection of planes, trains, and automobiles. The museum shop is a treasure trove of fine gifts and collectibles. The museum store at Farnsworth Art Museum and Wyeth Art Center has everything from artwork to books to jewelry to collectables. You will not be disappointed!
Browse the many antique shops and flea markets for unique and unusual treasures.Cabot Mill Antiques in Brunswick is the pinnacle of antiquing—the largest multi-dealer antique mall in Maine! More than 140 dealers are located inside Fort Andross, a beautifully restored textile mill on the Androscoggin River. Rockland Antiques Marketplace in Rockland and the Town of Wiscasset are also popular places to go searching for the much-wanted collectible or artifact!
To learn more about antiquing in Maine's Mid-Coast region, visit the Maine Antique Dealers Association for an online directory area antique stores and the merchandise they carry.
A Mid-Coast shopping extravaganza would not be complete without a visit to one or more of the area's art galleries. Look for handcrafted stoneware pottery and unique ceramic gift items at the many potters throughout the region. You can even find handcrafted goods at The Maine State Prison Showroom in Thomaston! This unique store sells more than 600 crafted products that are only available in the store.
Anytime of the year is a good time to visit Maine's Mid-Coast for a shopping excursion. The weekend after Thanksgiving, however, is a truly special time. There are a variety of events and activities taking place including the Festival of Lights. Santa arrives by Coast Guard boat at the Public Landing in Rockland and Rockland's unique Lobster Trap Tree is lit. A family favorite, there are parades, free horse-drawn carriage rides, and so much more. The Historic Inns celebrate with a Holiday Open House, so you can see all of them decorated in all their holiday best. Book your holiday shopping trip today!
Start planning your shopping adventure in Maine's Mid-Coast today!