Enjoy Four-Season Fun in Aroostook County
Aroostook County is a four-season visitor's paradise! From its many fairs and festivals to its endless array of unique cultural, outdoor, and historical attractions and shopping venues galore, the Crown of Maine offers the adventure of a lifetime!
Long recognized as one of New England's premier outdoor destinations, Aroostook County offers the recreational enthusiast a dream adventure with unlimited opportunities to get wet, climb high, ride fast, or kick back.Snowmobiling, ATVing, canoeing/kayaking, golfing, hunting, snowshoeing, geocaching, hiking, Nordic skiing, ice and open water fishing, leaf peeping, wildlife and bird watching...the list goes on!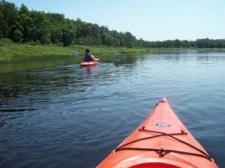 If you're in search of water escapade that you won't soon forget, the region offers more than 2,000 lakes, streams, rivers and ponds covering some 80,000 acres and includes the famous Allagash and mighty St. John rivers. Popular fishing spots include The Fish River Chain of lakes, Portage Lake, Mattawamkeag Lake, and Pleasant Pond, where you can fish for land locked salmon, small mouth bass, brook trout, and lake trout. For water fun, consider booking a three to ten-day canoe and kayaking trip with a local guide.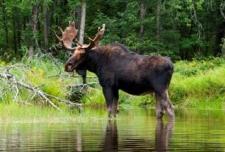 Feet on land more your style? Maine's famed big game species – black bear, whitetail deer and moose - are always abundant. You can also try your hand at smaller game including wild turkey, waterfowl or rabbit. To learn more about hunting in Maine, visit the Maine Department of Inland Fisheries & Wildlife. Or take a day to hike Quaggy Joe Mountain (a double-peaked mountain and one of Aroostook County's two extinct volcanoes) in Aroostook State Park, Haystack Mountain in Castle Hill, or Deboullie Mountain in Allagash, a trail surrounded by small lakes and ponds. Trails that permit motorized usage include the Heritage Trail, Bangor and Aroostook Trail, and the Aroostook Valley Trail.
If you're seeking assistance or in need a guide for your sporting adventure, the county's many seasoned guides can help you plan a safe and unforgettable outing. They're the ones to ask about where the fish are biting, deer and bear roaming, and water running just right. Many guides will even accompany you on your quest, leading guided canoe and kayaking trips, wilderness sightings, bird watching, and more.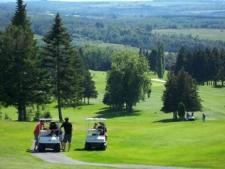 Spectacular 9- and 18-hole golf courses are scattered throughout Aroostook County. Enjoy courses that are rarely overpopulated with tee times almost always available throughout the day. Rolling landscapes, lush forested walls, and weather that produces the perfect "green", await at one of the region's top-notch country clubs.
By car, tour one of the many scenic byways to catch a glimpse of nature at its best and be wowed by spectacular panoramic vistas. The most popular byways include the Million Dollar View Scenic Byway (famous among cyclists), the Grindstone Scenic Byway, Fish River Scenic Byway or St. John Valley Cultural Byway.
Looking to curb your appetite for culture, art, and history? You won't be disappointed! The area is bursting with museums, art galleries, cultural attractions and historical sites. Some of the favorite stops are:
Hancock Barracks (troops occupied this during the "Bloodless Aroostook War")

Long recognized as a melting pot of diversity, residents of this region are eager to share their home and communities with you. The culture of the County also includes a Swedish Colony and several Native American tribes, the Mi'kmaq and Maliseet, who proudly display their heritage through their crafts, museums, local farms, and regional markets. Visit maliseets.com or micmac-nsn.gov to learn more.
The County also has its roots in agriculture, which is why you'll find a variety of interesting and fun agricultural attractions such as working farms and museums, including the Southern Aroostook Agricultural Museum. You can even drive through a to scale solar system model on US Route 1 and identify all the planets on your drive from Topsfield to Presque Isle.
For a full line-up of Aroostook County's many fairs and festivals, visit the region's Event Listings. You can also download the fully-interactive visitor's guidebook.
The region is also filled to the brim with storefronts offering fabulous apparel, unique gifts, custom crafted jewelry, stunning local artwork, organic foods and treats, outdoor gear, the best antiques shops and more! To plan your shopping extravaganza, please see our Aroostook County – Shopping & Antiquing page.