Greater Portland & Casco Bay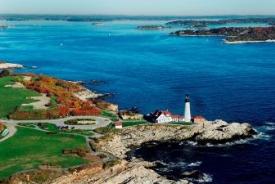 A meander down the Old Port's cobblestone streets will lead you to an array of boutiques, galleries and restaurants in revamped Federal-style buildings. Every Wednesday from spring through early winter, Monument Square bustles with the sights and sounds of an active Farmers' Market.
The Portland Arts District is home to a bevy of galleries, antique shops, studios and performance venues, most of which run along Congress Street. Portland's monthly First Friday Art Walks offer an evening opportunity to browse local galleries. For some family fun, visit the Children's Museum of Maine, located next to the Portland Museum of Art.
Dubbed "America's Foodiest Small Town" by Bon Appetit, Portland is brimming with lively pubs, seafood restaurants, ethnic cuisine and vegetarian fare.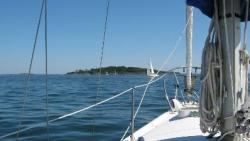 For a history lesson on Portland's involvement in the Underground Railroad and anti-slavery movement, check out the self-guided Portland Freedom Trail. The trail marks 16 historically important locations around the city. If you're looking for a day trip, Portland is perched close to several fun destinations. A short ferry ride away, Peaks Island awaits. A perfect day trip destination for its Maine island atmosphere and stunning ocean vistas, you can enjoy the four-mile loop around the island by foot, bicycle or golf cart!
Across the bay from Portland sits South Portland, a close-knit community sporting restaurants, bakeries and beaches. South Portland's Bug Light Park is the perfect spot to fly a kite. Nearby Willard Beach is a family favorite for its sand and pebble beach, offering a vista of boats streaming through Casco Bay.
Just south of South Portland lies Cape Elizabeth. Visit the lovely waterfront Fort Williams Park, home to Portland Head Light, Maine's oldest lighthouse. Cape Elizabeth's Two Lights State Park offers stunning views of the Atlantic Ocean.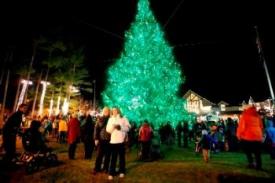 Fifteen minutes north of Portland, Freeport turns quintessential New England charm into a shopper's paradise. Retail shops and factory outlets offer plenty of opportunity for bargain hunting. Situated in the middle of Freeport's shopping district, L.L. Bean hosts both summer concerts and winter festivals.
My favorite spot in the Greater Portland & Casco Bay region is Downtown Portland. It's a great all around city that something for everyone. Fantastic locals, amazing restaurants, pet friendly, and different opportunities around every corner for another adventure to begin. 

–Christin Z., Rotterdam, NY