HALLOWELL – The Maine Tourism Association (MTA) is proud to announce that this year's inductee into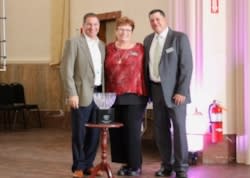 the Association's Hall of Fame is Cyndi Robbins of Poland Spring Resort in Poland.
MTA's Hall of Fame was created to recognize outstanding individuals who through their leadership, dedication and professionalism have made significant and sustained contributions to the tourism industry in Maine. Every year one member of the Association is chosen to be inducted at the MTA's Annual Meeting. This year's meeting took place on May 11 at the Agora Grand in Lewiston.
Cyndi (Sievert) Robbins started her hospitality career at 16 working as a waitress at Poland Spring. She later served as a short order cook, food and beverage manager and head chef, and supervised housekeeping and maintenance. In 1982, she and her husband Mel Robbins bought the resort and began the restoration all 32 buildings at Poland Spring as well as the historic golf course. Over the last 10 years, she has added Cyndi's Dockside Restaurant, a boat rental facility, a driving range, disc golf, mini golf and an ice cream shop. After the opening of the nearby Oxford Casino, the Lodge at Poland Spring was returned to a year-round hotel. 
"Cyndi is a great example of what can happen in the tourism industry," said Chris Fogg, CEO of the Maine Tourism Association. "She began in an entry level job, worked hard and learned every aspect of the business and now she owns an historic, highly regarded resort. Cyndi is an exceptional person but her story is not unique. I hear similar stories all the time. The majority of those who find success in the tourism industry did so by doing any task they were asked, offering great customer service, learning the industry and working their way up."
For 40 years, the Poland Spring Resort has given 100 turkeys to the Poland Food Bank for area families. After 9/11, Maine servicemen and women have received free vacations at Poland Spring. Cyndi also hosts an annual fundraising dinner for Poland Fire Rescue. She is currently on the Board of Directors of the Friends of Shaker Village, Treasurer of Golf ME, a director of the LA Metro Chamber, Vice President of the Poland Spring Preservation Society and Chairman of the Poland Community Economic Development Committee; and she has served on the Androscoggin Home Care Hospice board. 
Fogg continued, "The Maine Tourism Association is proud of Cyndi and all the volunteer and community service time and money she contributes. We are honored to have her in our Hall of Fame."
The Maine Tourism Association represents more than 1,500 members across the state promoting the tourism industry. Members include small and large businesses that provide traditional tourism interests such as accommodations, restaurants, sporting camps, camping, retail establishments, and cultural and heritage attractions.
PHOTO: (from left) Scott Riccio of NorthEast Charter & Tour Co. (MTA Treasurer), Cyndi Robbins (Hall of Fame inductee) and Chris Fogg (MTA CEO)